Building a cleaning system using robots

Fuji Heavy Industries Ltd. and Sumitomo Corporation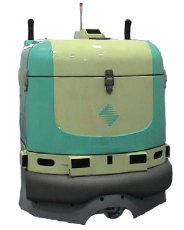 This system is a cleaning robot that cleans an office building while moving between floors by operating the elevator system itself. After finishing cleaning, the robot returns itself to the place of storage where it started from. It has been already introduced to about 20 high-rise buildings in Harumi Triton Square, Roppongi Hills and Central Japan International Airport Co., Ltd (as of October 2009).
The robot is able to operate the elevator for itself to ride in and get out.
Capable of communicating with the elevator via an optical transmission device, the cleaning robot can get in and out the elevator, and even operate it to go to the desired floor. After finishing cleaning, the robot returns to the place where it started from.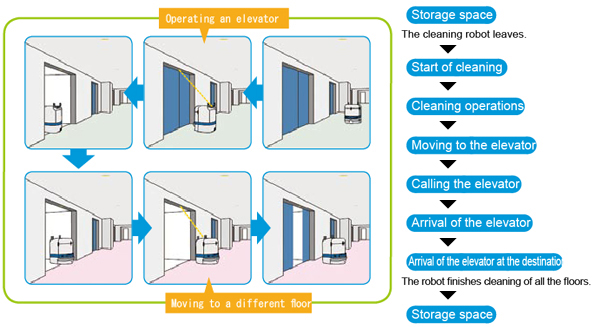 ---
A robot which cleans a building in nights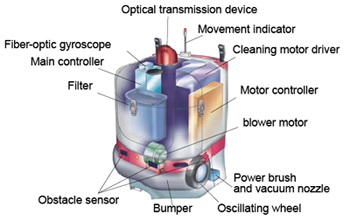 The robot is busy cleaning the building by itself midnight. Without human assistance, the cleaning robot judges its location using data obtained through a built-in gyro sensor, moves autonomously along a predetermined route, and cleans building floors. One of its characteristics is that, unlike a human cleaner, it always maintains a fixed level of cleaning.
---
Cost reduction realized and operational efficiency improved through the robot's movement between floors.
Building cleaning hours are usually limited to about two hours from midnight or 8:00 a.m. As the robot cleans in nights and needs no lighting even nor air-conditioning, it contributes to improving operational efficiency and saving energy. As the robot can move between the office building's floors using the elevator, even a small number of robots can clean a wide area, thereby reducing cleaning costs. Monthly cleaning cost for 1 square meter of carpet is about 100 yen per person, compared with about 50 yen per robot (when cleaning a building of 20 floors with a total space of 5,000 square meter or more).
Sure elevator control and stable travelling movement
The cleaning robot features a simple mechanism by having a travelling method based on straight forward movement and spin turn; compact size; moving without requiring positional data; and the characteristics long-term stable travelling achieved by means of gyro angle error correction. Additionally, in introducing this robot, there were three specifications that needed to be met: a cleaning robot, a system linking the cleaning robot and the elevator, and an elevator operating system. Consequently, we collaborated with the party purchasing the robot in a scrupulous manner and introduced it. In a new building, the clean robot gets in and out of the elevator using communications between optical transmission devices which are installed in the elevator. The entering/exiting and control methods seen here are very similar to those for people in which they enter the elevator (while the robot uses communications) to ride on and get out the elevator. The cleaning robot is able to confirm its current location, call the elevator, move between floors in the building, and move along and clean each floor in an autonomous manner.